Greaseproof Paper
Design Your Own Greaseproof Paper In 3 Easy Steps! 1 color, 2 color, and 4 Color Printing Process available.
Create your own branded custom printed greaseproof paper in our design tool, or upload your own graphic design art. We will do the rest and deliver your order upon completion! Available in white or Kraft paper using a 4 color printing process.

STEP 1
UPLOAD YOUR LOGO
Upload vector image file –
.pdf, .png, .jpg, or .eps vector graphic.

STEP 2
DESIGN YOUR PAPER
Adjust your logo or image in the design
tool on the paper and design it.

STEP 3
SELECT PAPER CHOICES
Select paper size, print color(s), white or Kraft paper, and sheet quantity.
Why Greaseproof paper:
No art plate or setup costs
3-4 week delivery time
Free shipping to the US, Canada & Mexico
1-color, 2-color or 4-color process printing
Full ink coverage possible
Standard and custom sheet sizes available
White or Kraft brown paper stock available
Microwave safe for heating
Freezer safe for storage
100% compostable and recyclable
No graphics limitations for design and layout
US FDA, ISEGA, and HALAL certified
More on "Why Greaseproof Paper"
GET 10% OFF
*Use Promo Code: Spooky
1 Usage Per Customer
Expires: 10-31-2023
Certified safe for direct food contact
Designed for both hot and cold foods
It's a multi-purpose paper
Top quality high wet strength
Stops oily food applications
Made naturally without any coatings
Oven, microwave and freezer safe
Vegetable based inks used for printing
20″ x 13″
20" x 12"
20″ x 10″
18" x 13"
18" x 12"
18" x 10"
17" x 11"
16" x 12"
15″ x 13″
15″ x 12″
15″ x 10.75″
15″ x 9″
14" x 12"
13″ x 13″
13″ x 10″
13″ x 9″
13″ x 6″
12″ x 12″
12″ x 10″
12″ x 9″
12″ x 8″
12″ x 6″
10.75″ x 10″
10″ x 10″
10″ x 8″
10″ x 6″
10″ x 5″
9" x 9"
9″ x 6″
9″ x 5″
8.5" x 11"
8" x 8"
8" x 6"
8" x 5"
7" x 7"
7" x 5"
6″ x 6″
6" x 5"
5″ x 5″
4″ x 4″
Check Out Our Latest Work
Let's Start Your Project
Together!
If you have any comments, questions, or concerns regarding our printing process, artwork files, pricing, order quantities, plus more, please give us a call or email us.
Questions, Call: 1-800-957-4286
Expanding your Brand!
Custom Printed Greaseproof Paper – Food Service Greaseproof Paper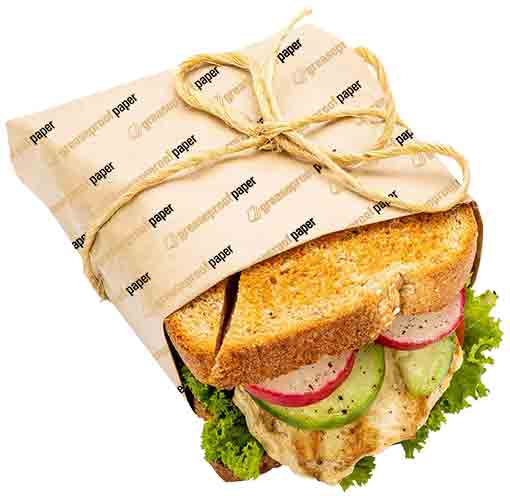 Greaseproof Paper is your #1 source for custom printed food paper products. Click "Get Started" and design your very own branded greaseproof paper with our software design tool. Upload your logo, create your greaseproof paper within the design tool, select your paper color and size and checkout, it's that simple. We will do the rest and deliver your printed greaseproof paper order upon completion! Available in white or Kraft paper using a four-color printing process.
Our greaseproof paper is biodegradable and manufactured from either 38gsm white or 40gsm Kraft brown paper. Custom printed greaseproof paper is the perfect solution to wrap around or use as a liner beneath any heavy oil food product. The greaseproof paper application holds the grease in and doesn't allow it to seep through. Within the food industry or baking industry, our greaseproof paper is the perfect liner for food trays, wraps, basket liners, along with many more uses.
Maintain the appearance of your food presentation, while keeping in the flavor, and most importantly, making it greaseproof.
Greaseproof Paper is turning the food service paper world upside down with our revolutionary approach to custom printing. Gone are the days of 1 & 2 color step and repeat logos. Businesses like yours now have the ability to transform your food service paper into a work of art. Greaseproof paper gives your business the presentation flare it deserves and lets your customers see your brand in a whole new light. Design it yourself (link to design page) or let our talented graphics department help.
Greaseproof paper is the perfect solution for fried foods, greasy foods, hot & cold foods, oils & sauces, heavy dishes, basket liners, tray liners, food wraps and so much more! This is the most versatile sheet on the market today! Greaseproof paper can be custom printed with your logo and delivered to your door in just 3-4 weeks.
If you're not currently using Greaseproof paper, let us help you get started today!